A Colorado-based staffing agency
For almost 4 decades, SOS Healthcare Staffing has been helping healthcare organizations and facilities fill their nursing and allied health staffing needs. Whether the need is short term, fill in shifts, contract, travel, or permanent hire, SOS can provide the staff required. We have a proven track record and are located right here in Aurora, Colorado.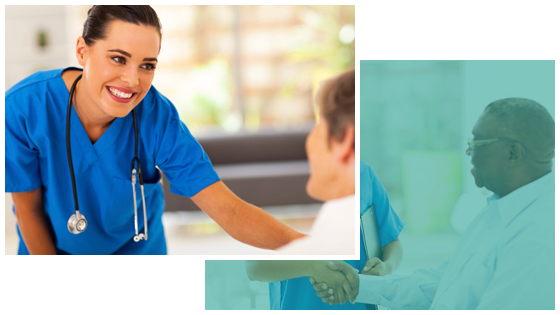 Partnering with SOS Healthcare
When working with the dedicated sales staff at SOS Healthcare, you can rest assured that we will work diligently to find the right person for the position and the right position for the person. We ensure that our relationship with both staff and facilities is based on understanding the needs of each person involved.
Call SOS Healthcare Staffing today to begin working with a team that will partner with you!
Advance your healthcare career
SOS Healthcare Staffing employs nurses and allied medical professionals who enjoy excellent pay with competitive benefits, along with flexibility and variety. You choose not only where you want to work, but when and how often. You can work full-time, part-time, per diem contract, or as a traveler. By applying your skills in any of our quality healthcare/medical facilities, you gain valuable experience to help advance your career and at the pace, schedule, and times you want and need!
Give a boost to your healthcare career
As an SOS team member you'll join our staff of educated, licensed, and experienced professionals. Whether you are a seasoned professional or a recent graduate, once you complete the interview process and needed paperwork, you're ready to become an SOS "free agent". SOS is an Equal Opportunity Employer.
Leave the Hard Part to Us
We handle the administrative details so you can focus on the work at hand. You'll find us easy and pleasant to deal with, and you'll receive personal attention as well as quick responses to all your questions or concerns.
Pick your facility. Choose your assignment. Match your work to your schedule. Top pay, flexibility and variety are just a few reasons to work for SOS. Choose from:
Per diem
Long and short term contract
Temporary-to-Permanent
Direct hire/permanent placement
SOS offers clinical and administrative healthcare jobs in hospitals, long term care facilities, clinics, outpatient centers, surgical centers, correctional facilities, and mental health facilities. We staff various specialty areas for all positions below: