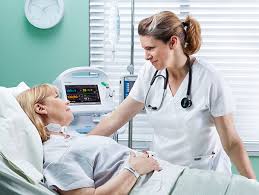 Celebrating Nurses This Month!
National Nurses Day is celebrated every year on May 6 and marks the beginning of National Nurses Week, which ends on May 12. The goal? To raise awareness of this invaluable vocation. Voted the most trusted profession for 16 years running, nurses act as patient advocates, caregivers, educators, and even friends. Without nurses, hospitals and medical centers would not be able to provide the care that they do – they are truly the heart and soul of healthcare.
This year's National Nurses Week theme is "Nurses: Inspire, Innovate, Influence." During this time, while we recognize the efforts of nurses across the country, it's important to truly understand what it takes to be a lifelong caregiver. While nursing is a fulfilling career, it also requires a good bit of personal sacrifice. This is what you should know about being a nurse:
Education
RNs make up most of the nursing profession, and to become one is no small feat. There are several paths that a potential RN may follow, but they all require, at minimum, three years of fulltime schooling. It is common to commit four years to obtain a bachelor's degree, and many nurses choose to further their education by gaining a certification in a specialized field, such as pediatrics or oncology. In addition, all nurses must pass a national licensing exam and are required to take yearly continuing education courses (the total number of hours vary, depending on the nurse's particular employment details).
Benefits
Most nurses who work full time can expect to receive benefits, including health insurance, dental insurance and prescription drug coverage. Some employers will even provide a retirement plan, such as a 401(k), cover the cost of continuing education, and provide paid vacation. Of course, like any other profession, the quality of benefits varies greatly from place-to-place. A job in a large hospital will likely provide better benefits than one in a small-town doctor's office, and some employers may not provide benefits at all.
Pay
According to the Bureau of Labor Statistics the median yearly pay for registered nurses nationwide in 2017 was $70,000. This means that half of all nurses made more than that, and half made less. The highest reported average hourly wage ($43.51) was in pharmaceutical manufacturing, and the lowest ($31.59) was at nursing care facilities. Nurses in California got paid the most ($49.37/hour) and those in South Dakota received the least pay ($27.41/hour).
Opportunity
Due to a long-running nursing shortage in the U.S., RNs continue to be in high demand. According to InnovatorsGuide.org employment of registered nurses is expected to grow 19% from 2012 – 2022 – much faster than the average for all other occupations. This means that employers are in desperate need of qualified workers, leaving many interesting and diverse opportunities open for those interested.
Flexibility
One of the best things about being a nurse is the job's flexibility. Not only is work available in virtually any city you may want to visit, but also in a variety of facilities. For example, whether you want to work in a hospital or a doctor's office, a school or a nursing care center, opportunities abound. With flexible hours and variable workdays, nursing allows you to find the time to pursue other activities, like time away or continued schooling, if you feel like it.  Working with a company like SOS Healthcare Staffing can be advantageous if you want to try difference regions and types of practices.  We have clients in all areas needing particularly skilled nurses.
To explore deeper issues in the nursing field, consider registering today for the National Nurses Week Webinar. Topics covered will include identifying technological trends in healthcare, understanding the impact of technology on your nursing practice, and recognizing what you need to do to adapt.
Happy Nurses Week!  We celebrate the Inspiration, Innovation and Influence Nurses have in the world!