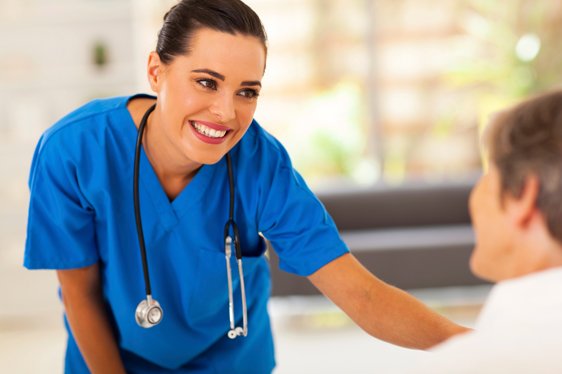 The Importance of Maintaining Good Relationships at Work
The Importance of Maintaining Good Relationships at Work
February is the month of Love! Valentines day brings a focus on romantic relationships, but many workers spend more time with co-workers than with their spouse and family – and that's especially true in healthcare, where hours can be long and shifts erratic. That's why it's important for employees to not only have good working relationships with each other, but also with their boss, the hospital staff, and especially the patients.
Keep reading for a few of our favorite ways to foster relationships in the workplace (and a few bonus tips for connecting with your loved ones):
Build Trust
Trust is a key component in building healthy work relationships. And it doesn't just help foster friendships – it also helps team members work together more collaboratively and increases job satisfaction and morale. So, how can you increase trust amongst your teammates and co-workers?
Be sure to keep all the promises you make, no matter how small.
Always be honest – for instance, if you forgot to chart a patient, take the blame. Don't try to peg it one someone else.
If you're a manager, keep your team in the loop when it comes to workplace changes and other "big picture" information.
Listen
 We know that when you're in the middle of a crazy shift, it can be hard to find time to do anything, let alone stop and chat. But listening is important in a number of ways, especially when it comes to patients.
As a caregiver, you need to be fully focused on the patient while you are with them – and that includes remembering their names and those of their family members, details about their life, and their goals regarding their health. When the patient feels that you truly have their best interest at heart, it helps build a trusting, respectful relationship, and that's just easier for everyone involved!
Good Communication
 Having good communication with both your coworkers and patients can help in several ways:
Good communication reduces patient anxiety and helps them feel at ease
Good communication helps patients feel in control
Good communication allows your team to work more productively and be more effective
Good communication ensures that the staff has the most up-to-date information on a patient and can provide the appropriate care
Finally, good communication helps people feel valued – no matter what your relationship is!
What About Home?
 Maintaining personal relationships, especially healthy ones, can be difficult when you're at work all the time. And healthcare professions don't just come with long hours – they also come with a lot of stress.
So, how can you connect with your partner or family in a meaningful way?
Work some alone time into the schedule, whether it's date night with your spouse or happy hour with your bestie – and make sure you stick to it!
Set aside time to sit and talk. It may seem odd or even unnatural to pencil in communication time on the calendar, but when you have a crazy work schedule, it helps ensure that you actually make time to talk about the important things.
Don't forget the details: birthdays, anniversaries, and even major holidays can slip by the wayside when you're on duty – but remembering these things can really make those special people feel valued.
When you're together, be present: no phone, no laptop, no tablet. Just you and your spouse or child. Let them know you enjoy their company and all of your attention is on THEM.
Maintaining healthy relationships is difficult under the best of circumstances, but by following the guidelines we've laid out above you can set yourself up for success at both work and home.
SOS Healthcare Staffing has been in business for over 34 years! We know something about building relationships that work for our clients and our nursing employees!  Give us a try!
–