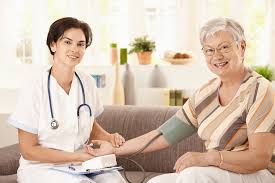 Celebrating National Family Caregivers Month
Honoring National Family Caregivers Month
November is National Family Caregivers Month. Every year, this time is used to recognize and honor the family and friends who dedicate themselves to caring for a loved one. According to the Caregivers Action Network, "Caregivers are superheroes. Managing medications. Getting to doctor appointments. Balancing work and home."  As Healthcare professionals, you might see the caregivers as much as the patients they care for.
This year's theme is "Supercharge Your Caregiving."
About National Family Caregivers Month
The Caregiver Action Network began promoting national recognition of family caregivers in 1994. President Clinton signed the first National Family Caregivers Month Presidential Proclamation in 1997, and every president since has followed suit.
Every year, this important event helps to educate caregivers on topics such as:
• Planning for the future
• Practicing self-care
• Communicating more effectively with healthcare professionals
• Finding community services
• Understanding the ins-and-outs of health insurance
• And much more
Perhaps more importantly, it helps raise awareness around the sacrifices they make, and the constant juggle between work, home, and caregiving.
What Challenges Do Caregivers Face?
Most caregivers have many different responsibilities and caring for a loved one is just one piece of that pie. According to the Family Caregiver Alliance, the average caregiver is roughly 42 years old. They likely have a family and a career – and they may be caring for more than one adult at the same time.
That means that most caregivers also have a lot more on their plates than the average person. In addition to the typical household tasks like packing lunches, getting kids ready for school, and doing the laundry, they also have to manage medications, go to doctor appointments, and oversee nutrition for another adult.
Many have to cut back on work hours in order to handle all of the caregiving responsibilities in addition to their regular tasks. Sometimes, they have to quit their jobs entirely. There is little downtime as they constantly manage the needs of both their household and an ill family member or friend.
Yet caregivers take on this difficult task because they want to. They don't complain. In fact, they take joy in being able to provide some comfort for a person they love – and that's why it's so important for the rest of us to help support them whenever we can.
What Resources Are Available To Help?
The Caregiver Action Network provides education, peer support, and resources to family caregivers across the country free of charge, and not just during National Caregivers Month, but all year round. Some of the valuable services they provide include:
• Anonymously connect with other caregivers to receive encouragement and advice
• A monthly newsletter with caregiving tips and news
• Educational forums
• Disease-specific information for caregivers of patients with Alzheimer's Disease, Huntington's Disease, COPD, and Parkinson's Disease
• And much, much more
Other organizations, such as the Stroke Association and Alzheimer's Association, roll out special programs during the month to help support caregivers. But it's up to all of us to encourage these caring people in any way we can. So –what can you do to support a caregiver this month?
At SOS Healthcare staffing we recognize that all of our employees and nurses are caregivers and we appreciate all that you do!